Are Low-Altitude Weather Services Ready for Drones and Air Taxis?
By Brian Garrett-Glaser | April 26, 2020
Send Feedbackdrone delivery, low-altitude flight, microweather, urban air mobility
The development of low-altitude weather services and regulation may be falling behind the progress of drone delivery services and passenger air taxis. (Credit: Don Berchoff)
As the Federal Aviation Administration continues down its "crawl, walk, run" path of incorporating drone delivery, passenger air taxis and other unmanned aircraft applications into the national airspace, development of low-altitude weather services and associated regulation needs to catch up.
Nearly 70 waivers have been granted for beyond visual line of sight (BVLOS) drone operations, according to FAA aviation safety inspector Marilyn Pearson, and none of them have specific weather requirements included as special provisions.
"We have BVLOS operations that may or may not have a visual observer and they have no specific weather requirements," Pearson said during a webinar hosted by the Vertical Flight Society. "So we don't know what they're flying into, and [the operators] probably don't know what they're flying into either."
Under Part 107, which covers most operations of small unmanned aircraft under 55 lbs, the operator must have 3 statute miles of visibility and their drone must maintain vertical and horizontal separation from clouds of 500 and 2,000 feet, respectively.
"We have a critical problem with developing regulations because the 2018 [FAA] Reauthorization Act said that we cannot make current regulations more restrictive, so the current regulations for Part 107 operations — and even the Part 91 or the 135 operations that we see now for unmanned vehicles — don't have sufficient weather requirements," Pearson said. "So we're going to have to determine what a policy might be, or perhaps on a case-by-case basis."
Even if those regulations were in place, FAA-approved data sources may not currently be able to meet all the needs of low-altitude drone flights. The Aviation Weather Center's (AWC) Helicopter Emergency Medical Services (HEMS) tool, for example, is designed to support FAA-regulated manned aircraft flying above 500 feet.
"We know that our products don't currently meet the needs of the UAS or UAM community, and in order to do this we really have to focus on that information below 500 feet," said Stephanie Avey, a meteorologist at AWC. "That would include higher resolution winds, additional observation data sets — especially in those dense, urban environments."
AWC is also working to provide some of the capabilities of its Graphical Forecast for Aviation (GFA), often used by general aviation pilots, for lower altitude missions.
"There's this idea that we could integrate our HEMS tool into the GFA and make it sort of a seamless product … 'GFA-Low Altitude', or GFA-LA," Avey said. "[GFA-LA] would include things like higher resolution winds below 1,000 feet … a lot more forecast information … like cloud layer information, precipitation and weather forecast from the NWS, we could provide turbulence information and low-level wind shear."
Based on numerous requests from users, Avey said AWC is focused on improving the interface for its tools. The agency isn't currently working on mobile or iPad applications, but is improving accessibility from those devices. Asked about API access to weather data, Avey added that AWC is working on "providing the gridded values of the GFA in a netcdf file format for FAA," eventually to include data for the GFA-LA as well.
"Right now, there's no standard from the FAA on where these operators should be getting their weather information," Avey said. "Without that requirement from the FAA, we're not able to provide that information. Once we have a requirement, this will allow us to bring in more funding. We know that having micro-modeling within urban environments, et cetera, is going to take a lot more computer power that we don't currently have."
"The current numerical weather prediction models clearly cannot resolve the scales of the processes that are happening in the urban landscape," agreed Matthias Steiner, director of aviation applications programs at the National Center for Atmospheric research. "The space and time resolution is too coarse."
A study conducted by MIT's Lincoln Laboratory in 2017, based on surveys and interviews with UAS operators, identified 12 major gaps in current weather decision support, particularly for low-altitude missions.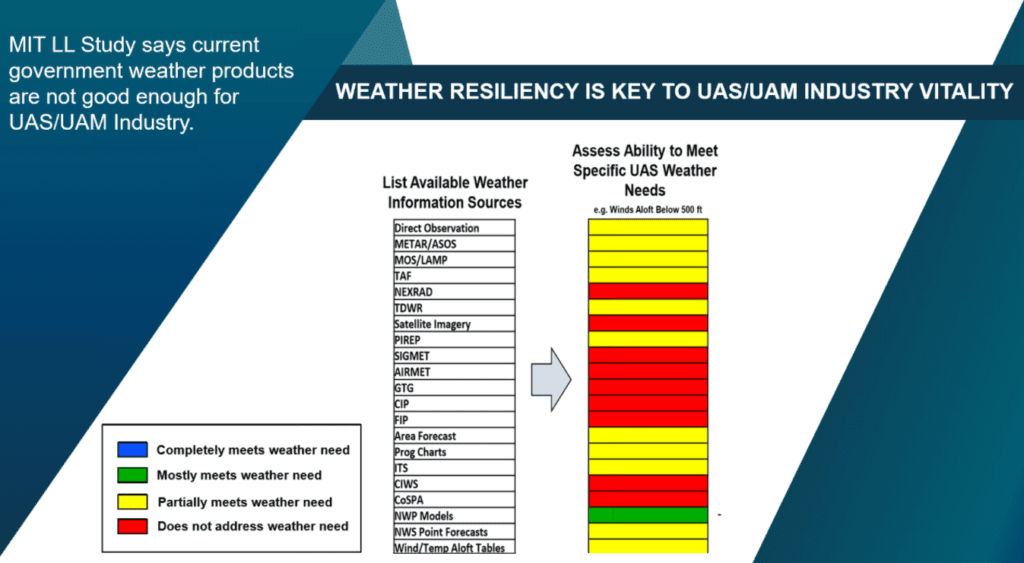 This slide, presented by FAA aviation safety inspector Marilyn Pearson, acknowledges the shortcomings in weather services for UAS operations identified by the MIT study.
"The lack of observations of ceiling, visibility, and winds near most low altitude UAS operational locations causes the validation of numerical weather forecasts of weather conditions for those locations to be the highest priority," the authors wrote. "Successful UAS integration is contingent on the ability of future airspace management strategies to remain both feasible and efficient in different weather situations."
Low-altitude flyers, including helicopters, need higher resolution data than is currently available to avoid flying into isolated patches of fog, for example — but more challenges emerge in complex urban landscapes.
"The weather challenges are all the normal culprits that we are aware of from large and general aviation, but in addition to all of those, the urban landscape creates additional new hazards — significant wind and turbulence around and above the buildings — that you need to be aware of," said Steiner. "The observing infrastructure is doing a good job to capture things at the larger scale, but it's inadequate to capture the micro-scale weather that happens, particularly in the urban environment."
Improvements to the low-altitude weather observation data and urban simulations will be critical to successful drone and air taxi services. Not only are these aircraft lighter and more susceptible to fluctuations in temperature, wind speed and precipitation, but UAM discussions have placed great emphasis on high utilization rates.
"We know that business models for running these operations are going to be so critical to the operators themselves, and they can't afford to sit on the ground because we think there's something in the air," said Don Berchoff, CEO of TruWeather Solutions. "Or they can't afford to not know how the weather is going to impact them four hours from now because they've got to give their client assuredness that they are going to get from downtown Manhattan to JFK with five hours lead time."
As UAS and UAM operators move from low-scale demonstrations in ideal locations to commercial activity, consistent, precise and resolute weather data and decision tools "are going to be absolutely critical for a well-functioning and non-chaotic airspace," Berchoff said.
"This is something that is going to become more recognized and more impactful to people's business model and revenue as they start trying to schedule more flights, jamming more operations into a smaller envelope, not carefully managing each flight for demonstration and avoiding the weather to make it work … the reality is at some point going to hit the industry and what we want to do is get ahead of this problem and to do that we need operators' support and we need to demonstrate the need for research dollars," Berchoff added.
Much like the "crawl, walk, run" approach to integrating unmanned traffic, there is broad agreement that solving for the weather challenges associated with low-altitude and urban flight requires a gradual approach, creating "good enough" benchmarks that allow for an initial system to emerge.
"This is not something that's going to get solved in even 20 years," said Berchoff. "This is a long-term effort that will probably never be perfect enough in my lifetime, but we have to start somewhere."
https://www.aviationtoday.com/2020/04/26/low-altitude-weather-services-ready-drones-air-taxis/